September 16th, 2023 at 8:00 am

by Ron Cervenka
It is a well established and very much accepted fact that the Dodgers would not be where they are today were it not for future Hall of Famers Mookie Betts and Freddie Freeman – period.
But even the very best of the very best have an occasional off day, albeit not very often. Take Friday night's game between the Dodgers and the Seattle Mariners at T-Mobile Park for example. In that eventual 6-3 Dodgers win over the American League West third place Mariners (who are desperately fighting for the final AL Wild Card slot), Betts, who entered the game hitting .323, had only one hit in his five plate appearance on the night with a walk to keep his (team second-best) batting average unchanged, and Freeman, who entered the game hitting .337, went an uncharacteristic 0-for-3 to see his batting average to plummet to a (still team-best) .336.
But as good teams do, when their superstars have a rough night at the plate, the other guys always seem to step and fill the (brief) void.
In Friday's win over Seattle, Dodgers shortstop Miguel Rojas, who entered the game with a .234 batting average, went 2-for-4 with a two-run home run in the top of the fifth inning (his fourth of the season) and a single to right in the top of the ninth.
"That big hit from Rojas, you know, a homer right there, Jason (Heyward) flair base hit then the home run, gave us some life," Dodgers manager Dave Roberts told SportsNet LA's Kirsten Watson postgame. "And then we got some two-out hits and just had good at-bats, got to some of their guys in the 'pen."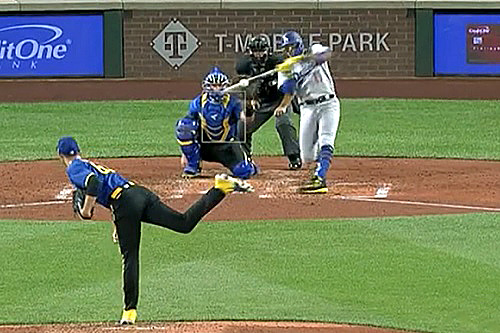 And then there's 'The Old Guy,' 36-year-old Dodgers designated hitter J.D. Martinez, who hit two RBI singles in his 2-for-4 night, the second of which coming in the top of the eighth inning to make it 5-3 Dodgers.
And then there's that James Outman fellow, who has developed quite a knack for hitting home runs in key moments, like his solo shot to straightaway center in the top of the ninth to put the game on ice at 6-3. It was the 26-year-old Redwood City, CA native's 20th home run of the season, making him the 10th Dodgers rookie in franchise history to reach the 20-home run mark. However, he is the first Dodgers rookie to have at least 20 home runs and 15 stolen bases.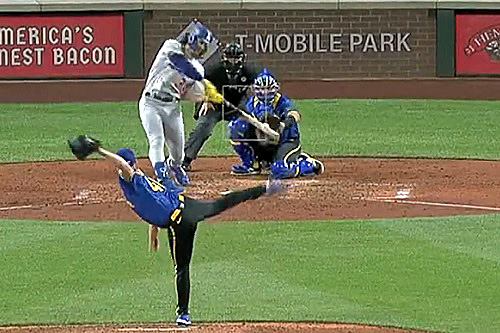 Obviously, it also takes some solid pitching to 'git 'er done' and the Dodgers got exactly that from another Dodgers rookie, 24-year-old right-hander Bobby Miller, who picked up his 10th win of the season (against three losses), limiting the Mariners to just those three runs on six hits, while striking out seven and walking two. One of those hits, however, was a solo home run by Mariners third baseman Eugenio Suárez in the bottom of the fourth inning to give Seattle an early 1-0 lead. Fortunately for the popular Elk Grove Village, IL native and Dodgers first-round draft pick in 2020 out of the University of Louisville, his teammates scored two in the fifth and two in the sixth, giving Miller a 4-3 lead when he was replaced by 27-year-old Dodgers right-hander Caleb Ferguson with two outs in the bottom of the sixth.
"I was able to navigate through the lineup very well," Miller said postgame. "Early in the game they kind of told me their game plan a little bit with some of the swings they were taking. I threw some bad fastballs down and away that were balls they were swinging at out of hand, so that kind of told me their approach a little bit, so I was able to work from there. But late in the game, just ahh it was pretty frustrating. I got a couple walks today, which were pretty unacceptable; 0-2 curveball to Suárez was a really bad pitch. Other than that, I think there was a lot of good though."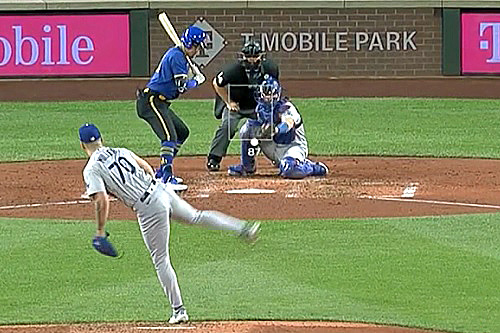 Not a bad night for 'The Other Guys.'
Play Ball!
  *  *  *  *  *  * 
from your own site.