Article content
This in from Pierre LeBrun of The Athletic, his report that the Edmonton Oilers might be a destination for Unrestricted Free Agent Claude Giroux, if Giroux, 34, does not return to Florda: "In the event that the Oilers can't re-sign Evander Kane, I was told over the weekend that the Oilers have internally discussed the merits of trying to sign Giroux. He has played primarily wing the last few years, but also remains a top faceoff guy and still obviously impactful offensively. Giroux playing either with Connor McDavid or Leon Draisaitl has plenty of appeal."
Article content
And on Oilers Now, Sportsnet's Elliotte Friedman agreed with host Bob Stauffer's assertion that Edmonton's playoff success, and deals with Leon Draisaitl and Connor McDavid, now make Edmonton a destination of choice for more tops NHLers.
Said Friedman: "Just the way McDavid and Draisaitl exploded, there's no question that some players are looking at Edmonton a little differently. We'll see where it goes. We'll see if it helps you. I've heard about the possibility of that."
The question with Giroux is if another another team will give him term.
Evander Kane wants long term on a big number, which Edmonton isn't yet in a position to give, Friedman said, but one name floating around out there is Giroux. "We'll see if there's a fit… I do think he's somebody that's potentially on your radar."
Article content
In net, Toronto goalie Jack Campbell is also on the Oil's radar as a free agent signing, Friedman said.
For what it's worth, the on-ice analytics gang, who rates individual players by how their team does on the ice, are excited about Giroux. For example, stats guy Andy and Rono tweeted: "Giroux is still great two-way winger, legit 1st line forward. He can also play on both wingers. He would be huge addition for Edmonton for sure.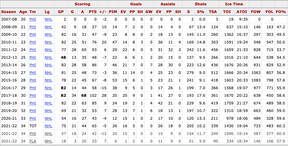 My take
1. Giroux will turn 35 in January so he's past his hockey prime, but even in his recent NHL seasons he's been a strong attacker at even strength. He was a great NHLer in his prime, an outstanding top line centre, who put up points, checked and won face offs. He did all of those things like an elite NHLer in his prime, but even as his game had dropped off, it appears he's managed to play strong two-way hockey, though I can't say that with certainty.
Article content
2. For the Oilers to win with so many big contracts already on the books, the team can't afford to keep giving out big contracts to every player who wants to come here, or every player who does well here. Instead of signing a player like Evander Kane right now, Edmonton has to find another bargain deal, maybe not the brilliant kind of value deal that Kane represented last January when his reputation was a dumpster fire, but something close to that, with a top player willing to come here on a bargain contract. In Edmonton, the player will make some millions less than he would in another NHLer city, for the opportunity to compete for a Stanley Cup alongside McDavid, Draisaitl, Darnell Nurse, Zach Hyman, Evan Bouchard, Ryan Nugent-Hopkins and any other Oilers aces? Is Giroux that kind of player? Maybe.
Article content
3. Capfriendly places Giroux at a career estimated earnings of $78 million. That's a lot of money even after deducting taxes, escrow and agent fees. It could put Giroux in a spot where he's more likely to choose a situation where he can win and thrive on the ice over a team where he can maximize his earning power.
4. I can't offer a credible opinion about Giroux's exact value as a player, as I haven't done the necessary homework. I haven't watched all his minutes from last season, for example. I haven't taken careful notes on his play. If you haven't done that, if you're just relying on stats, fancy or otherwise, I don't put much weight in your opinion either. But that doesn't mean Giroux won't be a good signing for Edmonton at the right cap hit and right amount of term. It's just that I can't say for sure. Of course, I couldn't say for sure about Cody Ceci either. I had no strong opinion (not having put in the necessary video review), but anyone who doubted that Ceci would be a good signing has now been proven dead wrong.
At the Cult
McCURDY: Oilers with short stack at draft
LEAVINS: Does Oilers' hockey ops shuffle signal a change in philosophy? 9 Things 
STAPLES: Darnell Nurse, value contract? He has been until now