Corporates are tight-lipped on what they pay to be a sponsor, although one insider said the starting price was tens of thousands and then "the sky's the limit".
Australian Grand Prix sales and commercial general manager Darian Misko said sponsors were keen to attract some of the event's growing audience in part inspired by the Netflix series Drive to Survive.
"Everyone wants to be part of the hype around F1 at the moment," he said. "Our audience is not just the motorsport enthusiast any more, there's sports fans and families, there's premium seekers and young event goers."
Misko said the grand prix had broadened its audience with live music, food and beverage hubs and a Super Mario family zone which enabled it to appeal to a wider range of corporate sponsors.
Australian Grand Prix chief executive Andrew Westacott said the state government's contribution should be compared to the $1-2 billion expected to be invested in the Commonwealth Games.
Westacott said there was a $171 million economic benefit to the state of hosting the race, which was a "2.2 return straight away" on its $78 million contribution, before other benefits like branding, tourism and civic pride were considered.
"So the $78 million is a massive number, but the benefits are massive as well," he said.
This year's grand prix has 10 new corporate sponsors, which takes the total to more than 50, and adds new names to what Misko described as the "usual favourites" of Rolex, Red Bull, Ferrari, Lamborghini and Heineken.
Loading
Marriott Bonvoy's lounge provides access to the rooftop of pit lane, and tickets cost $2450 on Saturday and $3125 on Sunday, alongside exclusive offers for its guests including meet and greets with F1 team members.
Sean Hunt, vice-president of Australia, New Zealand and the Pacific for the hotel group, would not comment on much Marriott spent on its grand prix sponsorship but said it was in the middle of a negotiation to extend its contract.
"We have these Marriott Bonvoy moments. They are really designed to be moments money cannot buy," he said. "Regardless of whether you are a bricklayer, lawyer or hotel owner you get the chance to bid on these options and win an opportunity to go down to pit lane meet the drivers and see the cars."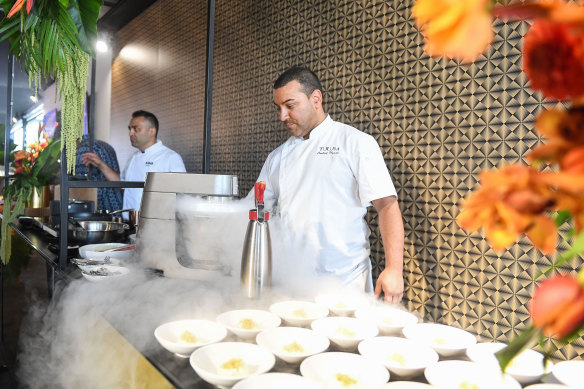 Hunt said bookings reflected the importance of the event to Marriott, with occupancy for its Melbourne properties around 95 per cent for March 30 to April 3 – an increase on 2022, when the average was 90 per cent over the grand prix weekend.
Marriott's two newly opened Melbourne properties, Le Meridien and The Ritz-Carlton Melbourne, are sold out on Saturday.
However, even hotel groups with no ties to the race are full. Hospitality analytics company STR recorded hotel bookings at 90 per cent capacity for the weekend and Hilton Melbourne Little Queen Street, Ovolo Hotels and Next Hotel all at near capacity.
Not all partnerships at the grand prix involve big money. Small Melbourne tech startup JigSpace secured its logo on Alfa Romeo's car through an "in kind" deal.
JigSpace, which offers tools for building 3D visual presentations, is Alfa Romeo's "metaverse partner" and enables fans to interact with a digital version of one of the company's cars.
"It's nice to be able to be there when you see your logo on the car," co-founder Zac Duff said. "There is a lot of pride associated with that. I feel great every time I see it, even if it is blurry and the car is flying by."
The Morning Edition newsletter is our guide to the day's most important and interesting stories, analysis and insights. Sign up here.