England are a confident side now.
Liew on Kohli.
Alex Lees is finding his feet at Test level.
Ali Martin's match report
See you back here tomorrow morning.
Time to catch up on a few emails. "As a Yorkshireman out in Geneva at a work meeting," says John Butler, "this game is seriously messing with me. I keep having to go to the toilet or tutting and saying 'my boss won't leave me alone' as I check OBO (no one here cares about cricket shamefully)."
"If this England side continue creating these exciting, total-threatening, fourth-innings run chases," says Henry O'Brien, "there won't be many teams declaring against them!"
"Watching Joe Root bat – encapsulated by that sumptuous cover drive," says Colum Fordham, "is a joy to behold and makes you quite forget the need for emphasis on B…B…. (surely Bairstow Ball now – YJB is pretty easy on the eye too)." Yes, Bairstow should get more credit for it.
"It really feels like this partnership – and it really has to be these two (with a bit of Stokes if strictly necessary) – is taking England into the realms of distinct possibility. Or am I just tempting fate?"
No, distinct possibility is a good way of putting it. WinViz rates England's chances at 76pc, to India's 23, but as Nasser Hussain pointed out just now, England often start the day by losing an early wicket. And when that happens, it's game on again, because Ben Stokes is the only recognised batter to come. This one, I can exclusively reveal, could go either way. A series that began last August is still in the balance.
Thanks for your company and do join the OBO from 10.30am tomorrow, to see if England can pull off the biggest Test run chase in their history. Thanks to two century partnerships – one from their two best players, the other a total bonus from a struggling pair of openers – they have given themselves an astonishingly good chance.
Stumps: England living the dream
57th over: England 259-3 (Root 77, Bairstow 72) It's the last over of the day, and Bumrah shoulders the burden of bowling it himself. A single to each batter, and then Root shuts up shop – until the fifth ball, when he plays a swivel-pull for a single to bring up the 150 partnership – 151 off 32.4 overs. It's been a masterclass.
And that's stumps, with England beautifully placed to thrill a capacity crowd tomorrow – but they still need 119, and they always have a collapse in their back pocket, as they showed by losing three wickets for two this afternoon. What a day it's been: a day for dreaming, and then finding that dreams can come at least halfway true.
56th over: England 256-3 (Root 75, Bairstow 70) Poor old Siraj returns to the deep with figures from a one-day international: 10-0-64-0. Back comes Mohammed Shami, who is also wicketless but doesn't deserve to be. He keeps Bairstow quiet-ish, conceding just a single. Tomorrow, by the way, is now fully booked, every one of those free tickets snapped up. Fabulous news.
"I think," says Phil Keegan, "Max Harrison is onto something; Young Bonny Jairstow has a real ring to it." Ha.
55th over: England 254-3 (Root 74, Bairstow 69) Yes, Bumrah was changing ends. He draws a nick from Bairstow, but it's a catch to third slip. Stokes might have a man there even now, but Bumrah has just the one slip, so it's four more. For good measure, Bairstow adds a straight push for three.
On WinViz England are now rated three times more likely than India to win this match. If they do, it will be their highest run-chase in 142 years of Tests.
54th over: England 246-3 (Root 73, Bairstow 62) Bumrah, who has underdone the bowling changes today, now makes one when as far as we can tell he doesn't have to. He takes himself off (possibly to change ends) and sends for Mohammed Siraj. The field says that he'll be banging it in. Sure enough, he bowls a bouncer to Bairstow, who lapped up this diet when he was fed it by the New Zealanders. Bairstow hooks, bisecting the men in the deep – and going way over their heads. That's the first six of the innings. The next ball is another bouncer, so high that it's a wide. Que Siraj, Siraj.
53rd over: England 236-3 (Root 71, Bairstow 55) Bairstow glances Shami to reach yet another fifty off 75 balls. He rubs it in with a cut for four. Since 14 June, he's been Mr BoomBairstow, making 136, 162, 71 not out, 106 and now 55 not out. His average in this purplest of patches has been 176, his strike rate 103. Has any batter ever done better?
52nd over: England 228-3 (Root 70, Bairstow 49) As Bumrah continues, Root plays the Platonic ideal of the cover drive – all touch and timing. And temperament. England need another 150.
"YBJ," says Max Harrison, "set to be the first man to a thousand Test runs in 2022 if he hangs around. Unless Root pips him to it. Crazy. But good crazy."
So crazy that you've called YJB YBJ, lol. But you're quite right, these two are the batters of the year so far.
51st over: England 222-3 (Root 65, Bairstow 47) Off goes Jadeja and back comes Shami, so Bumrah is going for broke with 25 minutes to go. He bowls a long hop, for once, and Bairstow flays it away for four. Shami hits back with a lovely outswinger but, as so often in his career, it doesn't take the edge. England need another 156.
50th over: England 217-3 (Root 64, Bairstow 43) Thakur is taken off at last, with figures (7-0-33-0) that by no means insult him. Back comes Bumrah and he immediately shows his class, beating Root outside off as he goes for an upper cut. But Root is in such good touch now that he still picks up a two and a single. The force is with him.
49th over: England 214-3 (Root 61, Bairstow 43) Jadeja is at his wits' end, so he abandons the Ashley Giles impression and goes round the wicket. He doesn't find the turn he's looking for. He may have made a fine hundred in this match, but he still hasn't taken a wicket.
48th over: England 211-3 (Root 59, Bairstow 42) Bairstow, facing Thakur, plays yet another leg glance and that's the hundred partnership. It's also dropped! A tough chance, low to Pant's left. The hundred came up off 23.3 overs. It's still a stand of two halves, only they are rather unequal: a short period of attrition, followed by a longer passage of (dare I say it) dominance.
"Think…" said Steve Colwill a few minutes ago. "If it weren't for that mad Broad over England would now only need 160-odd to win this." True. But to be fair, the policy that brought us the mad over also yielded a flurry of wickets today, when Stokes bombed out the tail.
47th over: England 206-3 (Root 57, Bairstow 39) Jadeja lets out a squawk of self-loathing as he strays onto off stump, allowing Root to cover-drive for four. India are losing the plot for the second time in this innings. The way things are going, Kohli will soon be sledging Bumrah.
Fifty to Root! And the 200 up
46th over: England 201-3 (Root 52, Bairstow 39) Thakur continues and Root says thank you very much, dabbing for a single to reach yet another Test fifty. It's his 82nd half-century for England (including the 27 hundreds), and it has been one of his best. With the field scattered, the singles keep flowing. And up comes the 200.
On WinViz, England are now favourites! With 53pc, to India's 45. That seems misjudged, but maybe they're going by Bumrah's captaincy. It's been the performance of a man who has no idea how to make the batters feel uncomfortable, except by bowling himself.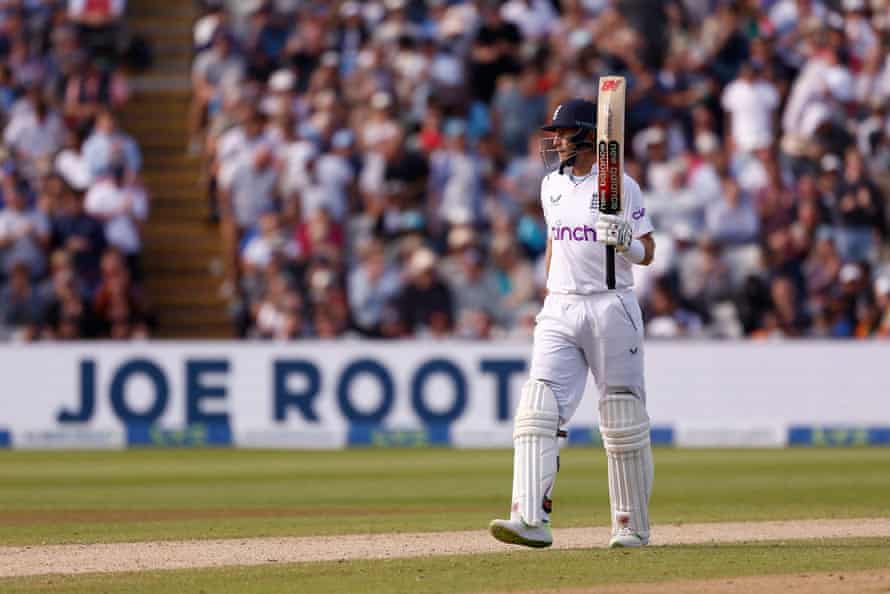 45th over: England 196-3 (Root 49, Bairstow 37) Something must be done. The obvious move is for Bumrah to bring himself on, but instead he turns to Jadeja. At least that helps with the imbalance on the experience front. Jadeja concedes just a single and a leg-bye.
44th over: England 194-3 (Root 49, Bairstow 36) An experienced captain might have taken Siraj off, but here he is again. His first ball is short and Bairstow pulls it imperiously, well in front of square. Siraj, to his credit, fights back, with a nip-backer that finds Bairstow's inside edge. The ball goes from bat to pad and somehow eludes the leg stump. Fortune favouring the brave.
43rd over: England 187-3 (Root 48, Bairstow 30) In case Siraj isn't grumpy enough, Thakur gives Bairstow a freebie on his pads, which he flicks to fine leg – timing it so well that although Siraj can reach it with a dive, he can't stop it bobbling over the rope. The target, by the way, is below 200 now – another 192 needed.
42nd over: England 181-3 (Root 47, Bairstow 25) Siraj continues. Single to Root, single to Bairstow, single to Root, dot ball, single to Bairstow, single to Root. Five off the over without a big shot played in anger. Put that down to experience, facing inexperience.
So much has been happening that I've barely been able to open an email, sorry. But here's one from Tharun Jimani. "My girlfriend recently introduced me to that other venerable English institution," he says. "Love Island. While I'm still undecided on whether my enjoyment of the reality (?) show is ironic or not, I was wondering if any OBO readers partake of the same? And if so, which couple do they expect will win this season?
"Before you deem my email unfit for publication, consider that this may be my last shot at getting my girlfriend vaguely interested in Test cricket. The game needs all the fans it can get, Tim!" It does… but only the ones who are going to enjoy it. No force-feeding!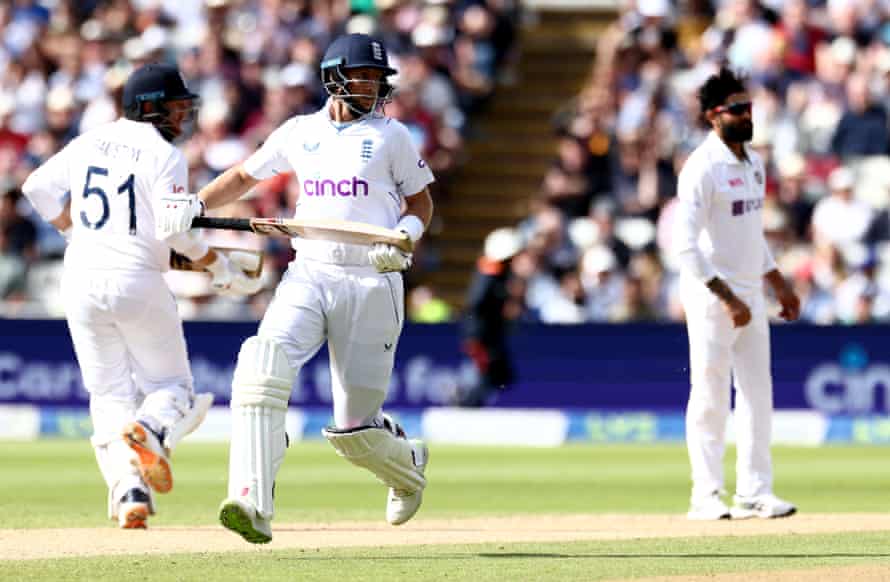 Drinks: Root getting on top
41st over: England 176-3 (Root 44, Bairstow 23) Those assorted sweeps from Root have had the desired effect. Jadeja goes off, with 12-2-44-0, and on comes Shardul Thakur, so it's relative inexperience at both ends. Bairstow plays a cover drive and Root a pull, though they each get only a single for it.
And that's drinks, with Root getting England back on top but India still a good bet for the win. One more burst from Bumrah, and we could be down to Billings.
40th over: England 174-3 (Root 43, Bairstow 22) That burst of verbals from Siraj didn't bother the batters, but he does seem to have unsettled himself. This over is all over the shop. Two singles, a two, and then Root, after getting something in his eye, receives a ball that is gift-wrapped and flicks it for four.
The last four overs have gone for 33. India are still firm favourites in my book, but they need a wicket.
39th over: England 166-3 (Root 36, Bairstow 21) Bairstow, facing Jadeja, cuts for three to bring up the fifty partnership (52 off 14.3 overs). Root celebrates with a sweep for four, to add to the paddle and lap in Jadeja's previous over. It's been a stand of two halves: backs to the wall at first, after that clatter of wickets; then the counter attack, but conducted with some composure – more Rootian than Bairstowish.
38th over: England 157-3 (Root 30, Bairstow 18) Shami, for the second time this afternoon, hands over to Mohammed Siraj. Bairstow cashes in, sending a loosener skimming to the cover boundary to bring up the 150. And then he edges – into the cordon – and is dropped by Hanuma Vihari, who is perhaps standing too close at second slip. Bairstow went at it with hard hands, which is usually a bad idea but may have been what saved his skin.
Siraj gives him a volley, so we're back to the dreaded sledging. I wish the players would realise that they're far too good for that.
37th over: England 149-3 (Root 30, Bairstow 10) Root changes tack against Jadeja, bringing out the paddle and the lap. He gets four, and four more. He has 30 off 51 balls, even though he has kicked away at least ten of them. England need another 229 to win, and they probably need Root to get a hundred of them.
36th over: England 141-3 (Root 22, Bairstow 10) After beating Root twice on the inside edge, Shami beats Bairstow on the outside by turning the ball round and getting the reverse swing to go the other way. He's such a good bowler.
35th over: England 138-3 (Root 20, Bairstow 9) A maiden from Jadeja to Bairstow, who has now faced 26 balls for his nine. But then he started slowly in the first innings…
"A squiz at Statsguru," says Martin Burley, promisingly, "suggests that there are only three occasions where England have made a century opening partnership in Tests at a higher run rate than Lees and Crawley did today. Two of those three faster ones involved Trescothick (one with Vaughan, one with Strauss) and the other featured Sutcliffe, so they're in good company."
Sutcliffe! I didn't know he had it in him.
34th over: England 138-3 (Root 20, Bairstow 9) Shami raps Root on the pad again! It's not too high, but it could be going down. Bumrah doesn't review, because he can't afford to – and he's right, as it was just missing leg stump.
"It's a much better field now," Sangakkara reckons. "Two slips, short midwicket, three men saving one, boundaries covered. More orthodox." More old-school, certainly. Ben Stokes would have four slips, and quite possibly a long stop.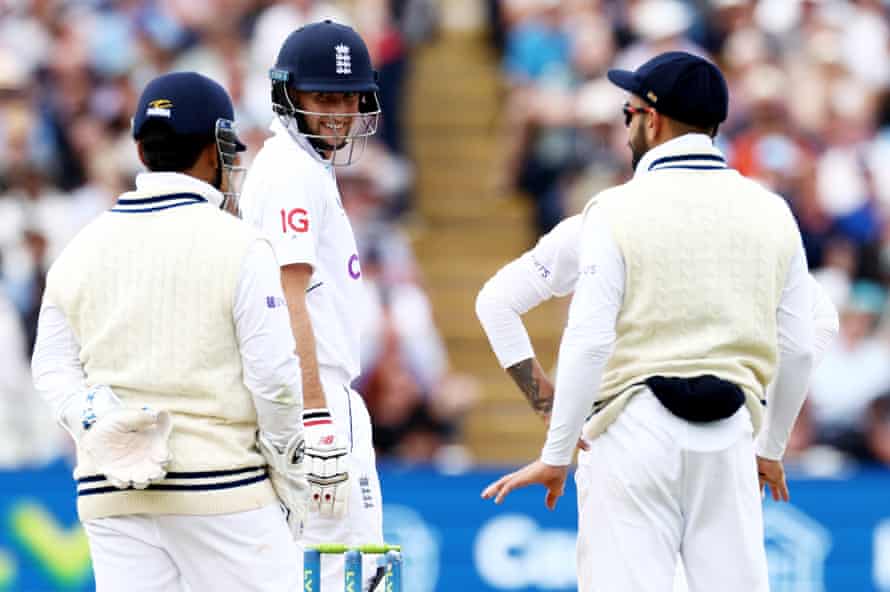 33rd over: England 137-3 (Root 20, Bairstow 8) Jadeja is mixing it up, half aiming for the rough, half for middle stump. Root kicks a few away but plays into the covers when he can, with an upright bat. "Would you be sweeping out of the rough?" Nasser Hussain asks Kumar Sangakkara, a master at playing spin. "Once in a while," he says. "With the sweep, it has to be instinctive, you don't want to prejudge it." The man is a qualified lawyer, he knows whereof he speaks.
32nd over: England 136-3 (Root 20, Bairstow 7) Bumrah gives himself a break and hands over to Shami. Root greets him with a glide for four, the Rootiest stroke in the book. Shami retorts with a superb in-ducker and goes up for LBW. A shake of the head from the ump. Another review from India (Pant's decision, not Bukmrah's, as he is off the field). It's too high! India lose two reviews in five minutes, so for the second time in the match they're down to their last one. And Root has a retort of his own, taking a forward step and whipping through midwicket. Mr Whippy!
31st over: England 128-3 (Root 12, Bairstow 7) Root misses a sweep and Jadeja wants a review! Not sure why, as it pitched outside leg. But Jadeja is doing a good job here, tying down an end. After going for 15 off his first two overs, he has conceded only 11 off his last six. Even with Bairstow there, the run rate has slowed to something resembling Test cricket as we knew it up to May 2022.
30th over: England 127-3 (Root 11, Bairstow 7) Bumrah has been sensational in this spell, but he was off colour with the new ball and now he goes too leg-stump-ish. Root helps himself to an easy glance for four and a tuck for a single.
"'If Joe Root was at No 3, as he surely should be,'" says Peter Wyatt, quoting me back at myself. "Are you sure? Root averages 38 at No.3, 51 at No.4." Only because of a few Tests long ago – since lockdown, he's averaged 47 at No 3. I just think it's a cardinal error to make the three junior batters go in before the three senior ones. It's the kind of management that went out of fashion in 1918.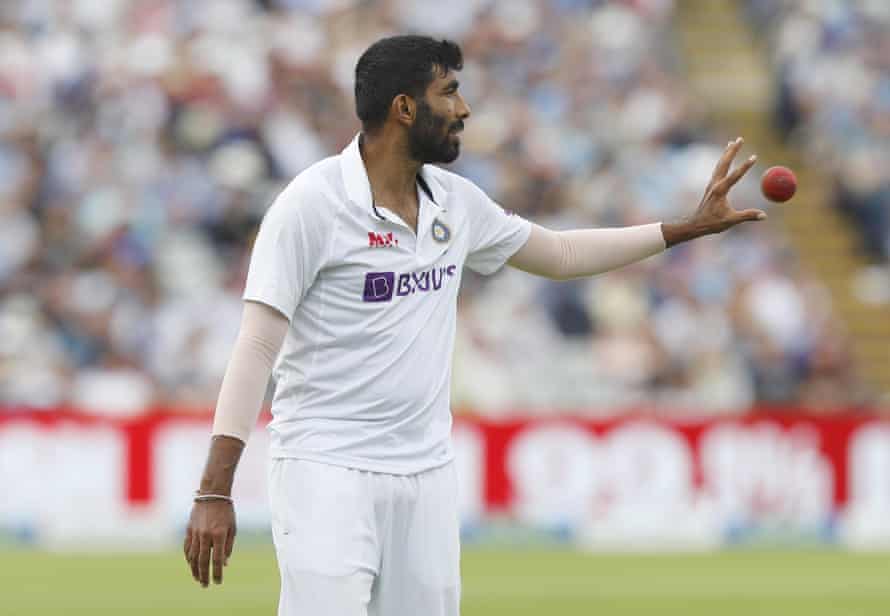 29th over: England 122-3 (Root 6, Bairstow 7) As Jadeja continues over the wicket into the rough, KP isn't talking to us, the viewers: he's addressing the batters. "Kick it away, Jonny. Very good, outstanding."
28th over: England 120-3 (Root 5, Bairstow 6) Bumrah continues, with that short run and straight arm, and Bairstow does well to clip an attempted yorker for a single. When Bumrah sneaks in a bouncer, Root thinks about the pull but pulls out of the stroke, wisely.
"So," says Brendan Large on Twitter, "England are chasing nearly 400 in a Test & we're talking (without a hint of sarcasm) about required rates. Of course they may fail but what fun this is! If they come up short and the knives come out will Ben go full gladiator post match? 'ARE YOU NOT ENTERTAINED!'"
27th over: England 117-3 (Root 4, Bairstow 5) Root's batting is unaffected. As Jadeja aims into the rough outside leg stump, he plays a reverse sweep, which doesn't find the gap, and then wants another, though he settles for padding the ball away. "Be boring, Joe," says Kevin Pietersen, "be boring." Do as I say, not as I once did.
26th over: England 117-3 (Root 4, Bairstow 5) Root's confidence as a runner has taken a knock, quite understandably. Facing Bumrah, he plays his signature shot, the glide to backward point, and waits for affirmation from Bairstow before setting off for what turns out to be a comfortable single. I suspect he'll be fine if he can get through the next ten minutes – these two run very well together. The England fans in the crowd try to give him a boost with a burst of Joe Root, to the tune of Hey Jude.
25th over: England 114-3 (Root 2, Bairstow 4) After losing three wickets for two runs, England are going to go into their shells, right? Wrong. Jonny Bairstow gets off the mark with a gorgeous shot, rocking back to cut for four. Root, surely, needs to be the designated driver here, as he so often was for Eoin Morgan's white-ball team.
Wicket!!! Lees run out 56 (England 109-3)
It's a collapse! Lees faces Jadeja, Root calls for a tight single, Lees is slow off the mark, and he's out by a mile. Sickening for him, after he played so well and so assertively – but gripping for the viewer.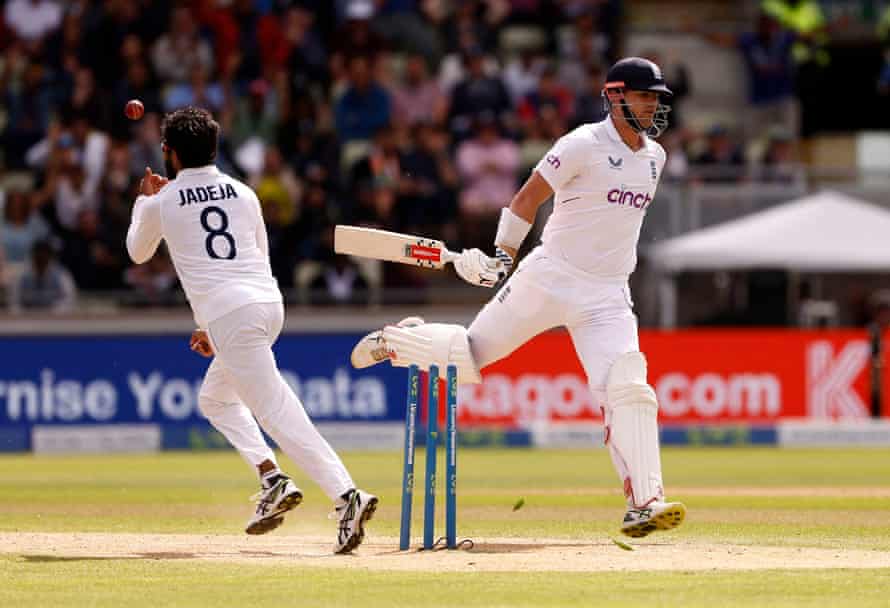 24th over: England 109-2 (Lees 56, Root 1) Pope was drawn into playing at one that he could have left – the opposite of Crawley's demise. But one led to the other, because the big inswing that sank Crawley preyed on Pope's mind, so the ball that didn't swing proved lethal. The crowd are suddenly making some noise, and Virat Kohli is trying to drown them out on his own. And here is Joe Root, shutting out the noise to get off the mark first ball with a nice easy clip off the toes.
Wicket!! Pope c Pant b Bumrah 0 (England 107-2)
Another one! Pope has a waft, gets a nick and gets a duck.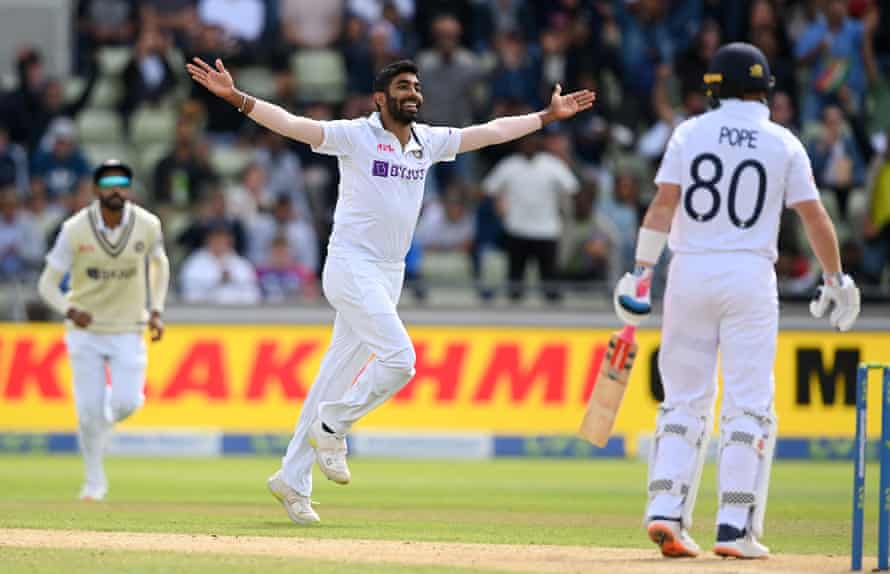 Tickets for tomorrow are free
Warwickshire's boss, Stuart Cain, is talking on Sky. If there was still that TV show called What's My Line?, they'd want him too as he wears a bow tie and looks more like a lovable old Latin teacher than a sports administrator.
He has good news: tomorrow is another free fifth day, though you will need a ticket – form an orderly queue at Edgbaston from 5pm.
England, even after that stumble in the last few minutes, have made 107 off 23 overs at a rollicking rate of 4.65. They need another 271 off 136 overs at a rate of … 1.99!
23rd over: England 107-1 (Lees 56, Pope 0) Shami comes back too: is Bumrah trying to start the whole innings again? Lees wafts at Shami's first ball, as if trying to channel the spirit of his departed mate, then charges the second and misses the third. If Joe Root was at No 3, as he surely should be, he'd be having a gentle word. But Shami, as so often, ends up with only moral victories. And that's tea, with England winning the session but India fighting back in the past few minutes, armed with a replacement ball. It's riveting stuff.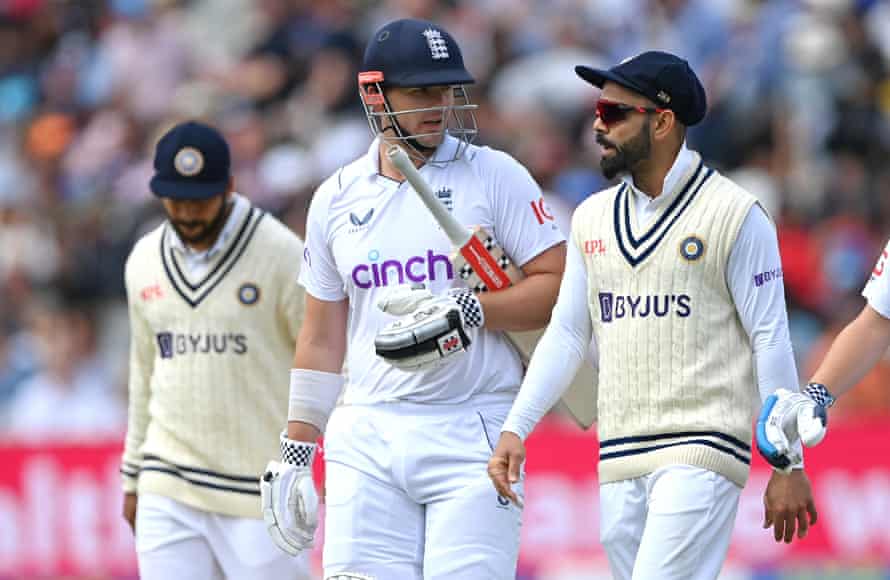 22nd over: England 107-1 (Lees 56, Pope 0) So the change of ball, or bowler, does the trick. But Zak Crawley deserves far more praise than blame for that innings. A finer 46 you could not wish to see, and an opening stand of a hundred is as good as it gets for a team in the fourth innings. It may even have been beyond Ben Stokes's wildest dreams.
Wicket! Crawley b Bumrah 46 (England 107-1)
Jasprit Bumrah does what a bowling captain has to do in a tight corner: he brings himself on. And it works! Crawley leaves the ball, just as everyone has been advising him to, but it's a booming Bumrah inswinger that clips the off bail. Game on!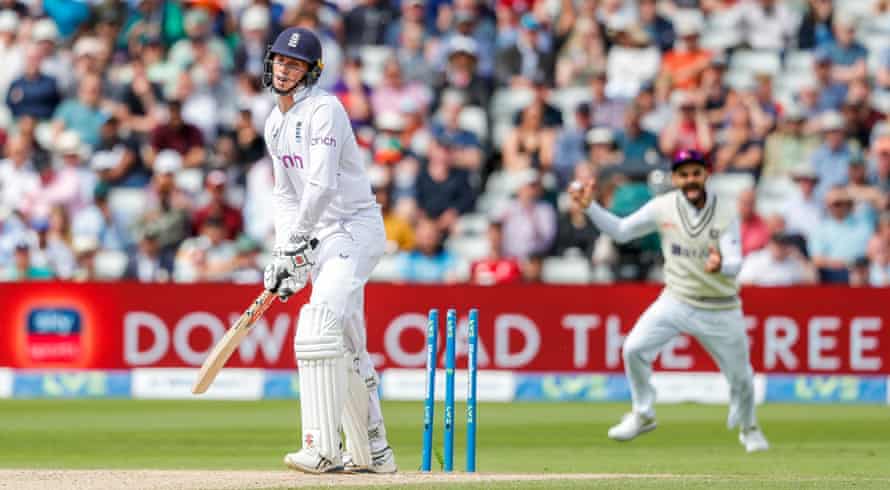 21st over: England 106-0 (Lees 55, Crawley 46) Still no bowling change, which is surely fine by England. Thakur has a highly defensive field, just the one slip, but still concedes a single to each batter (Lees's a streaky one, off the inside edge). India's main strategy seems to be to try to get the ball changed, and they succeed after five balls of this over. Crawley greets the replacement ball with a sober prod.
"England's first century opening stand," says The Guardian's own Ali Martin on Twitter, "since Hameed/Burns v India 4th inns at the Oval last summer … took 40.3 overs … Lees/Crawley today, 19.5." If you're reading this, Mr Burns or Mr Hameed, do let us know what you make of it all. Is it madness, method, or a bit of both?
A hundred partnership! By the openers!!
20th over: England 104-0 (Lees 54, Crawley 45) Bumrah, who has never captained a team before, keeps Siraj on, possibly because he just doesn't know what else to do. Siraj does a bit better, managing three dots, but there's still a wayward delivery that goes for four leg-byes and, before that, a clip from Crawley to bring up the hundred partnership. And these two are, on form, the worst of England's specialist batters.
19th over: England 98-0 (Lees 53, Crawley 44) The run rate is back up to five an over and I suspect it's going to stay there until a wicket falls. Crawley, in full flow now, sees a half-volley from Tharkur and drives it back straight for four, then gets just enough width to open the face and play a cover glide that just oozes class. After making 22 off his first 53 balls, he has added 22 more off the last 12, and done it in style. India must be grateful that he's so out of form.
18th over: England 90-0 (Lees 53, Crawley 36) One of the great things about getting a four and a single is that you're then up the other end for the beginning of the next over. As Siraj continues, Crawley greets him with another regal cover drive, then shimmies over to off stump to whip it through midwicket like the king of all, Sir Viv. And he still stays cool enough to taken a single two balls later. Come on Zak, make this a big one.
"Oh dear," says Phil Markham. "India appear to have made the Kiwi mistake of failing to occupy the crease long enough or profitably enough to dash England's belief."
The target is now under 300
17th over: England 81-0 (Lees 53, Crawley 27) Jadeja, who so nearly nabbed Crawley in his last over, is taken off. On comes Shardul Thakur and Crawley celebrates with a classic cover drive, to bring the target down below 300 – just where Ben Stokes likes it. Taking his cue from Lees, Crawley follows the big shot with a bit of tip-and-run. He's been outscored two-to-one here, yet he has played very well – apart from one waft at Siraj, a few minutes ago, to remind us that he's still Zak Crawley.
16th over: England 76-0 (Lees 53, Crawley 22) Siraj goes round the wicket, trying to cramp Lees's style and succeeding for three balls. Then Lees adjusts, rocks back and cuts for four to reach his second Test fifty off only 44 balls. It's his second Test fifty, and by far his best Test innings.
"If any of us needed proof that Test cricket is the greatest of all sports," says William Milner, "then surely this is it. Not so long ago, all of us would have written this run chase off and England would have collapsed to a miserable 150 or so all out.
"But now I believe every single person in that dressing room thinks they will win this. Of course they still might collapse, but I love the belief and if they do win this I think it trumps the last 3 victories. Meanwhile great to see a full house at Edgbaston on a Monday – I'm guessing tomorrow will be packed too.
"On a separate issue what's you view on Kohli? I love his passion and will to win but I do think he crosses a line sometimes…" Absolutely. He's 80pc passion, 20pc pain in the arse.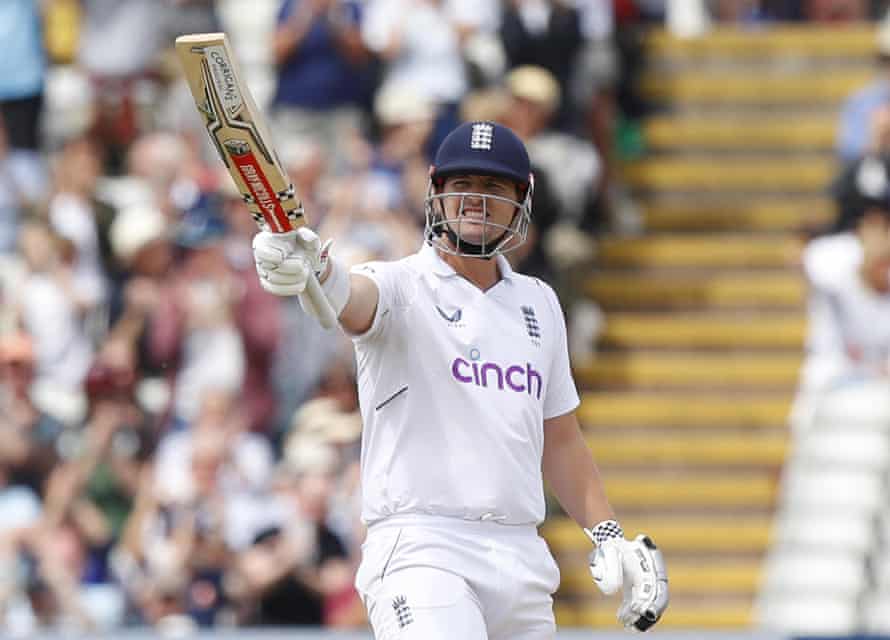 Drinks: a narrow squeak for Crawley
15th over: England 70-0 (Lees 47, Crawley 22) Jadeja reels off four dots, enough to make Crawley pull out the reverse-sweep – and he so nearly perishes! He under-edges the ball on to his boot, it pops up to short leg, the Indians are celebrating and the soft signal is out. But the third replay shows the ball just brushing the ground before the boot, prompting cheers of relief in the stands. And that's drinks, with England winning the first act of this final innings. They need another 308.
14th over: England 69-0 (Lees 46, Crawley 22) Lees, facing Siraj again, repeats the trick of getting five off the first two balls of the over – including a superb upper cut for four. He was compared to Alastair Cook in his first few Tests, when he was tongue-tied. Three months later, he's Cook on coke.
13th over: England 64-0 (Lees 41, Crawley 22) Jadeja isn't turning the ball, Kevin Pietersen says, and he needs that "because then he gets his tail up, and it brings in his natural variation that rolls onto the pads". KP knows all about the perils of facing slow laft-armers. This over is more characteristic from Jadeja and calmer from England, just two singles from it. But Lees and Crawley have already beaten their previous highest opening stand, which was 59, and it's a big bonus for England.