Winter Olympics fame, Shaun White has not left any stone unturned for his last Olympic appearance, despite the injury and medical setbacks. However, the decision is yet to be made about team USA.
ADVERTISEMENT
Article continues below this ad
While one spot has already been occupied by Taylor Gold through Olympic qualifiers, three more are still at stake. Notably, Shaun has successfully maintained his fourth ranking in America to solidify his chances.
ADVERTISEMENT
Article continues below this ad
No clear answer from Team USA made Shaun compete in Switzerland
Shaun is undoubtedly the most experienced snowboarder in the world. However, he had some struggles in the Olympic qualifiers this time. Although he did not secure a spot on the podium, he marked himself in the finals to maintain his US rankings.
In a recent interview, Shaun revealed that he tried to get some answers on his Olympic berth; however, he did not get any response from the officials. White said, "I had a word with the team about it, but I didn't really get that answer I was looking for."
Shaun, determined to make history, made the last moment decision to compete at the LAAX Open 2022, in Switzerland. While the qualifiers were over, the World Cup event gave him a chance to maintain his fourth rank in the USA.
Assessing his chances, Shaun said, "You know, they have a discretionary spot so they can kinda pick people for the team. And I don't know the full process, but–I didn't want to leave it up to a vote, so I'm out here trying to get it done."
Shaun White wraps up his fifth Olympic berth
Regardless of his age restrictions and medical issues, Shaun excelled in Switzerland. White qualified for the finals, while his team USA counterpart failed to move ahead in the competition. Hence, with this commendable performance, he successfully maintained his fourth ranking. Hopefully, now Shaun is just a decision away from clinching his historic fifth Olympic berth.
ADVERTISEMENT
Article continues below this ad
Notably, it will be up to Shaun's performance on the weekend that will determine his future in Beijing.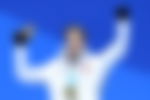 After securing his potential Olympic berth (which is yet to be announced), the next aim on his target will be a fourth Olympic gold medal. Do you think 35-year-old White will write history with his podium finish in Beijing?
ADVERTISEMENT
Article continues below this ad
DIVE DEEPER