The biggest event ever at World Wide Technology Raceway in Madison is about to rev up, and organizers want everyone to come along for the ride.
The Confluence Festival takes place June 3-5, part of the NASCAR Cup Series Enjoy Illinois 300, with events designed to attract kids, grown-ups, and music, barbecue and beer fans — along with racing enthusiasts.
And while a ticket is necessary to join the fun at the raceway — more on that later — a Fan Fest on June 2 at Ballpark Village is free. It includes a NASCAR hauler parade, music and other activities.
Curtis Francois, owner and CEO of World Wide Technology Raceway, has worked for years to secure this NASCAR Cup Series race, a first for the area. He compares it to winning a new sports franchise like soccer or baseball and winning a bid for the NCAA Final Four. Organizers expect the event will draw 83,000 spectators and bring in more than $60 million to the region.
It's an annual event, he says, and "provided it continues to go well, will always be here."
The fun starts May 31 with two St. Louis staples: baseball and beer. A special Side Draught brew will be released at the Anheuser-Busch Biergarten, and the Cardinals will host a racing-themed night at Busch Stadium. Fans with a theme ticket will get a Tommy Edman bobblehead, as well as a ticket to both the NASCAR Truck Series qualifying and the NASCAR Cup Series practice June 3 at the raceway.
On June 2, the Ballpark Village fan fest includes a NASCAR hauler parade, a first for downtown. The colorful haulers — each carrying one of the 40 competing race cars and equipment used to support them — will roll past the festival to energize spectators.
In between race events June 3-5 in Madison, the gates, infield and midway will open to fans, with dozens of tents and attractions that will entertain, educate and satiate: remote control racetracks, the NASCAR Rocket League esports tournament for high-schoolers, a biergarten and a visit from the Anheuser-Busch Clydesdales.
There are also barbecue competitions, stunt team demonstrations, vehicle displays, robotics displays, karting and welding.
Reaching young people
Juanita Logan works in community outreach for World Wide Technology, an information technology services provider based in Maryland Heights. Since its name is attached to the raceway, the company exposes young people in underserved communities to technology through raceway programs. Fast cars are a tempting carrot, Logan says.
"There's a lot of young people who love cars, and there's a huge science and engineering component around racing," Logan says, pointing out the untapped potential for women and people of color working in technology. "At the end of the day, we just want to expose young people to what's possible and provide a pathway to experiencing that."
Larry Albus is the director of Raceway Gives, the raceway's charitable foundation that works to reach young people year-round, not necessarily to lure them into racing. That would be like hanging your hat on a baseball career while playing little league, he points out.
The idea, he says, is to expose students to STEM fields and give them the confidence and ability to deal with science, technology, engineering and math. Children who work with the Jackie Joyner-Kersee Foundation in East St. Louis will participate in some activities.
'A win-win'
As for the existing racing fans, it's not tough to get them to the track.
A study by NASCAR showed that there are about 500,000 fans in the St. Louis metropolitan region, something that helped bring the Enjoy Illinois 300 to Madison, says Francois, the raceway owner and CEO.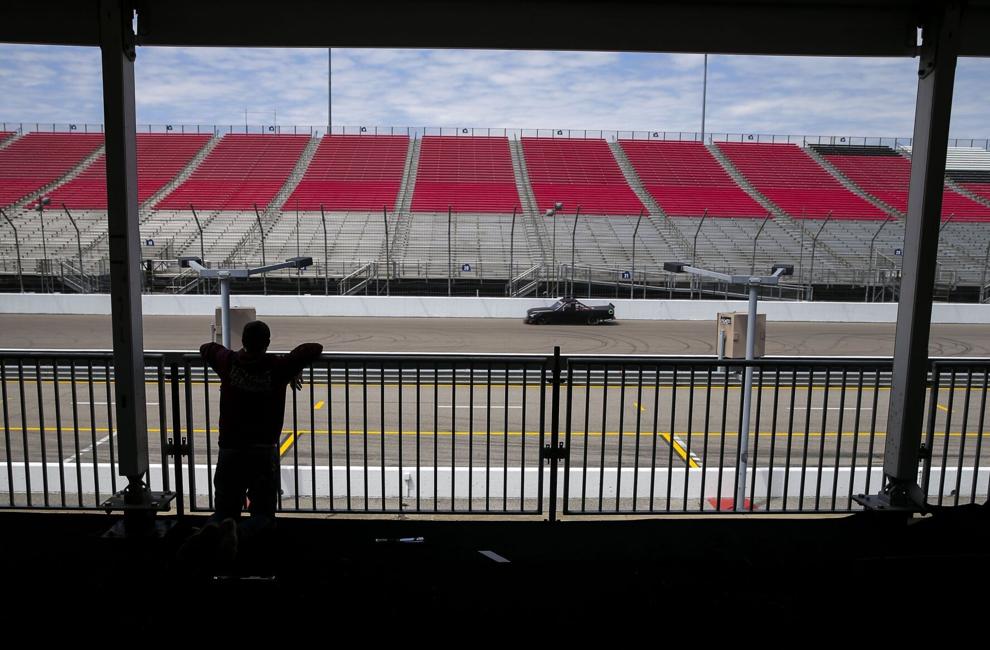 Sylvia Garcia is the director of the Illinois Department of Commerce and Economic Opportunity, which also oversees the Illinois Office of Tourism. Working with NASCAR as the title sponsor for the race seemed like a natural fit and a boon for tourism.
"It's a win-win," she says. "We get to have our name out there, and we get to have NASCAR fans excited about Illinois."
On the midway, the office of tourism will host a variety of activities and giveaways, including an interactive remote-control vehicle racetrack shaped like the state of Illinois, dotted with small replicas of iconic landmarks. NASCAR fans tend to plan road trips around races, Garcia says, and the Great River Road and Route 66 landmarks and attractions were selling points in securing the sponsorship.
"We thought it was an investment that will come back tenfold," Garcia says.
Fans are coming from 49 states, Canada and at least four other countries, organizers say. Catering to the growing segment of campers who travel to races, the raceway added 1,200 RV campsites on its nearly 700 acres, which includes the Gateway National Golf Links.
"We intend to give them an experience that they'll never forget," Francois says.
What Confluence Festival at Enjoy Illinois 300 • When June 3-5 • Where World Wide Technology Raceway, 700 Raceway Boulevard, Madison • How much Included with paid race entry; $49-$149, $20 for children • More info wwtraceway.com
What Fan Fest • When 4-8 p.m. June 2 • Where Ballpark Village, 601 Clark Avenue • How much Free • More info stlballparkvillage.com