In 2021, John Means rode a command-first approach to the best pitching season on the Orioles. In 2022, Means missed most of the season – and Jordan Lyles and Dean Kremer both rode command-first approaches to the best starting pitching performances on the team. Now Lyles is gone and Means isn't yet back from Tommy John, so the Orioles did what they had to do: traded for Cole Irvin, who will now inevitably ride a command-first approach to post the best numbers of any Orioles starter in 2023.
That's my main takeaway from last week's trade with the Oakland Athletics. The full trade: Irvin and prospect Kyle Virbitsky are headed to Baltimore in exchange for prospect Darell Hernaiz. In broad strokes, the deal makes sense: the A's are continuing to get rid of every major leaguer they possibly can, while the Orioles look to make marginal improvements to their major league roster to back up last year's breakthrough. But Irvin is hardly a slam dunk rotation topper, so I think it's worth investigating what the O's might see in him.
The first-level reason to acquire Irvin is probably the best one. He's a left-handed fly-ball pitcher, and the new configuration of Camden Yards favors that skill set. The team pushed the left field wall back in 2022, and righties simply stopped hitting homers. In 2021, Baltimore was the easiest place for righties to hit home runs. In 2022, it was the sixth-toughest, a massive swing. Oakland has always been a pitcher-friendly park, and Irvin took good advantage of that; he should find similar success in the newly-spacious Camden.
More specifically, Irvin just allows a ton of batted balls, and so stadiums that limit the value of those batted balls are a natural fit. Among pitchers who faced 100 batters in 2022, Irvin ranked in the 94th percentile when it comes to batted balls per plate appearance, thanks to minuscule strikeout (17.3%) and walk (4.9%) rates.
If you limit it even more to batted balls by right-handed hitters, he's commensurately more extreme. A full 60.1% of plate appearances involving Irvin ended with a righty putting the ball in play. Only 12 pitchers ended up with that result more frequently, which put him in the 98th percentile league-wide. In other words, a lot of how he does in a given year is determined by what happens when righties make contact.
In Oakland, that plan made Irvin a perfectly reliable starter, the textbook definition of rotation depth. He managed a 106 ERA-, 107 FIP-, and 179.2 inning pitched in his two years there, providing volume without excelling or struggling. That kind of help is hard to find; only 44 pitchers managed even 300 innings pitched with an ERA- and FIP- below 110 in the last two years combined. Sure, most of those 44 were meaningfully better on a rate basis than Irvin, but reliability is a skill, and acceptable pitching is just that: acceptable.
If that's what Irvin provides the Birds in 2023, they'll be happy with the result. We have him penciled in as their number two starter, a role I'd argue he's miscast in, but their rotation is made up of a huge pile of third/fourth starters, and Irvin happens to be the second-best of them at the moment (behind Kyle Gibson, another variation on the same theme). He's also under team control for quite a while; he just missed the Super Two cutoff this year, which means he won't hit arbitration until next year and won't become a free agent until after the 2026 season. Four years of cromulent starting – maybe less given Irvin's age, to be fair – seems like a reasonable expectation here.
If the Orioles get anything more out of Irvin, I think it will be thanks to his secondary pitches. He throws a changeup and a curveball (which is sometimes categorized as a slider) that have had completely opposite results in practice. The changeup has done very well, while the curve has gotten pummeled. I think that both might end up as good pitches, though.
The changeup is probably a fully-formed product at this point. It's a straight change that plays well off of his four-seamer, falling 15 more inches on its way home thanks largely to velocity differential. He throws it almost exclusively to righties and leaves it on the outside edge of the plate against them, an effective location. I don't think it'll ever be one of the best changeups in baseball – he doesn't kill enough lift to make the ball truly disappear on its flight home – but it's a solid offering for sure.
The curveball is more of a cipher. In fact, I'd argue that it's two pitches that he doesn't do a good job of differentiating. Pitch Info treats it as such; it classifies his breaking ball as roughly 50% sliders and 50% curveballs, with the division largely coming down to vertical movement: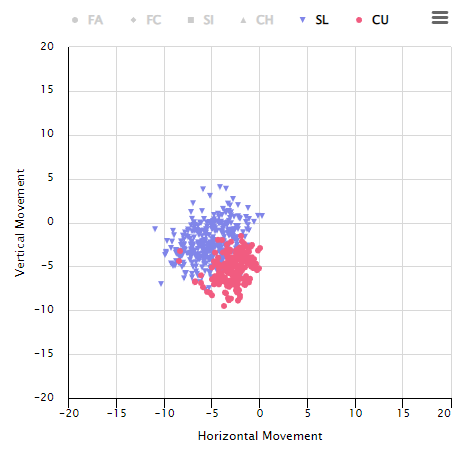 The vertical movement listed there excludes gravity, but slower pitches have more time to break downwards, and indeed, the slower he throws the breaking ball, the more it dips even excluding gravity: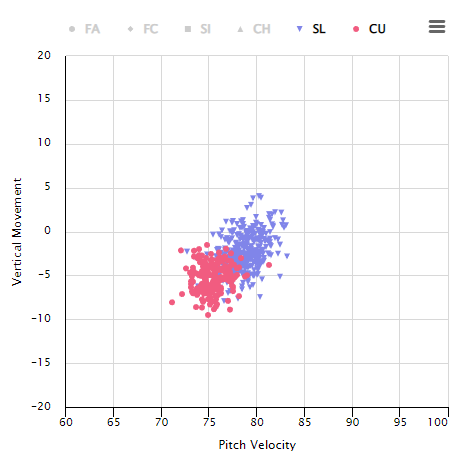 The faster version of the breaking ball has performed better so far, but I think that both suffer from similarity. The slower curveball just doesn't do enough on its way home; it has less drop than you'd expect from a pitch thrown in the mid-70s, which means that batters can often make contact with it even if they're fooled. Indeed, batters made contact on nearly 80% of their swings against that slower iteration of the pitch, which is a disaster. The league average on breaking pitches overall is 66.9%. In other words, Irvin simply didn't miss enough bats to get away with throwing this pitch, particularly in the strike zone.
The slider-ier version of this breaking ball didn't perform much better, to be honest. Again, it's some of the same problem; the pitch just doesn't have enough movement to miss bats. But here, Irvin did something; he started to throw it with more horizontal movement in 2022. It's not quite a sweeper or anything, but the pitch averaged five inches of glove-side movement in 2022 after checking in at roughly one inch in his career before last year.
That helped him avoid the scariest part of the bat against lefties, a big advantage of sweeping sliders. He allowed a .254 BABIP on the pitch and got a ton of pop-ups, so I'd say mission accomplished there for the most part. He also started mixing in a cutter that I think has utility to further mix up his looks. I'm cautiously optimistic that the sweep-ier breaking ball, if thrown to lefties, can be a plus pitch. None of this is going to make him a huge strikeout threat, but it might give him enough deception to keep the contact management train going.
Of course, the downside risk is never far away for a pitcher who doesn't strike anyone out and doesn't throw hard. Irvin gave up scary exit velocity numbers last year, and he probably will for as long as he's in the majors. He attacks the strike zone a lot without mind-bending stuff; hitters are always going to record their fair share of laser beams against that approach. If he loses a few ticks off of his fastball, the whole package could fall apart fairly quickly. I like his role as an innings eater, but there's a reason that projection systems peg him for an upper-4.00's ERA this year.
Irvin wasn't the only player involved in this trade. The Orioles also got Kyle Virbitsky, a 17th-round draft pick in 2021 who looks like organizational filler to me. For those two, the Athletics received Darrell Hernaiz, a fascinating and high-volatility shortstop prospect. Eric Longenhagen has him as a 40+ Future Value player, which puts him somewhere around the other Max Muncy or Jordan Diaz in their system, in the 11-15 range.
We might be the low prospect outlet on Hernaiz, who boasts mouth-watering power numbers. His high-end exit velocity numbers compare favorably to major league shortstops and second basemen already, and he's still only 21. He hits the ball on the ground more than you'd like and chases more than he should, but he makes solid in-zone contact and has plus bat speed. Eric questions his swing, which has downward plane that leads to ineffectual contact. The numbers bear that out; there's still time to change that, but it's certainly not a prototypical contact profile despite the loud EV numbers. That swing helped him perform well across three minor league levels last year, but I think he'll still need plenty of reps in the upper minors. His abbreviated trip to Double-A produced plenty of strikeouts and not many extra-base hits (in only 59 PA, to be fair). He might grow into more power, but it's hardly a given.
This kind of high-variance prospect is the opposite of what Oakland has prioritized in recent trade returns, Esteury Ruiz notwithstanding. They seem to like stability and proximity, something that Hernaiz doesn't offer. What he does offer is a top end; if everything clicks, he could be a difference maker offensively. There's plenty of speculation in that, but hey, Oakland is in need of some difference makers. I wonder why they haven't tried for this type of return (not the exact player, just guys with nice carrying tools and volatility) more often in recent years, but I think it was smart to ask for it here.
As Eric pointed out to me, Hernaiz was going to have a tough time climbing the hitter-heavy Baltimore system, so he was a luxury there. In that sense, this trade is a good reallocation of resources. Baltimore is competing in a brutal division at the major league level and could use pitching help. Oakland is competing for the first pick in the draft and is in dire need of a farm system overhaul. I don't think this trade is going to swing the AL East or West anytime soon, but I do think it's a good bit of business by two rational teams with differing objectives.