Mike Trout has as many MVP awards (three) as he has career playoff games, a fact that can haunt those of us who long to see generational stars get their chances in the brightest spotlights. It is an unfortunate side effect of the otherwise redeemable fact that in baseball, somewhat uniquely, no individual player has so much of an impact on his team's performance as to secure them a playoff spot. Even the combination of Trout and fellow MVP Shohei Ohtani hasn't been enough to nab the Angels so much as a Wild Card since 2014, instead playing out as a sort of macro Tungsten Arm O'Doyle scenario.
This year, Trout and Ohtani will once again be watching from home, the Angels having guaranteed a seventh straight season under .500. But them aside, the 2022 postseason is poised to be what it has failed to be in seasons past: a true showcase of the league's finest offensive talent.
As it stood Wednesday, each of the league's top 13 hitters by WAR are headed for postseason play, an entirely unprecedented level of October-bound talent at the top of the league. Led by Aaron Judge's historic 10.9 WAR and a slew of NL MVP contenders, the top 13 represent nine of the 12 playoff teams, including each division winner. In fact, if the season ended today, 21 of the top 23 offensive players by WAR — all but Boston's Xander Bogaerts and Trout, who, to be fair, both could have found themselves in the top 13 were it not for injuries — would qualify.
Top Offensive Players by WAR
Red: Not in position to make the postseason.
No postseason has ever featured the majors' top 10 hitters by WAR. The closest we've come was in 1999, when nine of the top 10 — missing only ninth-ranked Pirates outfielder Brian Giles — reached October. It represents a dramatic shift from last season, when just one of the top six hitters and three of the top 10 made the playoffs. Notably absent were both league's leaders in WAR, Fernando Tatis Jr. (7.2) and José Ramírez (6.5), and AL and NL MVPs-to-be Ohtani (who ranked 20th in offensive WAR) and Bryce Harper.
It stands to reason that there would be more top hitters in the playoffs when there will be more players in the playoffs, now that we're in the first season of the 12-team expanded format. But a closer look reveals that by any format, this would be an historic concentration of offensive talent. Just one of those top 13 hitters, 10th-ranked Realmuto, plays for a team that would not have qualified under last year's format. Indeed, 15 of the top 23 play for teams that have clinched their division or are leading it. And although comparing the results of one season to one other, especially one as wacky as 2020, is only so useful, that year's playoffs included 16 teams yet only seven of the top 10 players by offensive WAR.
In other words, playoff format aside, this season's elite offensive performers seem uniquely concentrated among the best teams. As long as you're not a pitcher on a playoff team, this is great news.
Speaking of, the phenomenon does not hold up on the pitching side, where four of the top 10 pitchers by WAR — Cy Young candidates Carlos Rodón, Sandy Alcantara, Ohtani, and Dylan Cease — will be absent in October, as well as others near the top of their craft like Zac Gallen, Logan Webb, and (potentially) Corbin Burnes. That still leaves plenty of talent staffing playoff rotations, but the top performers on the mound do appear to be more distributed across World Series hopefuls and noncontenders.
Top Pitchers by WAR
| | Name | Team | WAR | ERA | FIP | xFIP |
| --- | --- | --- | --- | --- | --- | --- |
| 1 | Carlos Rodon | SFG | 5.8 | 2.98 | 2.35 | 2.98 |
| 2 | Aaron Nola | PHI | 5.8 | 3.28 | 2.65 | 2.84 |
| 3 | Kevin Gausman | TOR | 5.5 | 3.30 | 2.42 | 2.78 |
| 4 | Justin Verlander | HOU | 5.4 | 1.82 | 2.62 | 3.30 |
| 5 | Sandy Alcantara | MIA | 5.3 | 2.32 | 3.06 | 3.34 |
| 6 | Shohei Ohtani | LAA | 5.0 | 2.47 | 2.52 | 2.73 |
| 7 | Spencer Strider | ATL | 4.9 | 2.67 | 1.83 | 2.31 |
| 8 | Max Fried | ATL | 4.8 | 2.50 | 2.73 | 3.10 |
| 9 | Shane Bieber | CLE | 4.8 | 2.91 | 2.89 | 2.98 |
| 10 | Dylan Cease | CHW | 4.6 | 2.06 | 2.95 | 3.44 |
Red: Not in position to make the postseason.
Does this suggest we might be in store for an unusually offensive postseason? There's no perfect way to answer that question, but we can look at team WAR to try to evaluate the overall level of hitting and pitching talent headed to the playoffs. As it stands, in 2022, the average playoff-bound team has 26.4 batting WAR and 18.7 pitching WAR, meaning that hitters hold a 58.6% share of the total WAR on those teams. This is an increase from last year's 55.4%, but a tick down from 2018 (60.1%) and '19 (59.9%), suggesting that there isn't an outlying historical imbalance in favor of offense overall this year, despite the presence of top talent.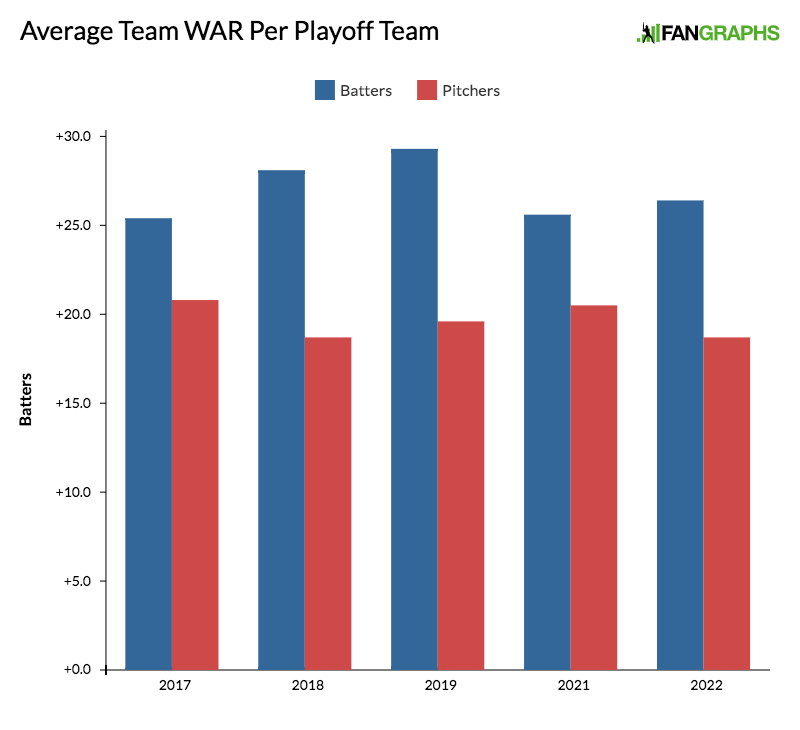 In the coming month, baseball fans will once again miss Trout and Ohtani, a pair of singular talents who we should all hope to see in future postseasons. But this October, we can expect some serious star power in the batter's box in one of the brightest showcases of what the league has to offer.